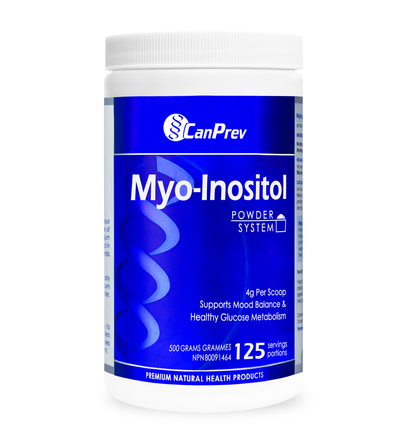 SKU: CP-195571
Mild sweet taste that mixes well with water
Supports mood balance by modulating neurotransmitter receptor sensitivity
Promotes healthy glucose metabolism
Promotes ovulatory function, improves oocyte quality and menstrual regularity in those with Polycystic Ovarian Syndrome (PCOS)
Studied clinically for use in eating disorders, mood imbalance and PCOS
Closely related to the B-vitamin family
CanPrev Myo-Inositol powder provides support for several bodily processes.
Mood balance and brain function: Found in abundance in the brain, inositol is involved in neuronal signaling and the healthy regulation of several hormones and neurotransmitters. At 3 scoops, inositol helps to reduce feelings of low mood. It has been studied in anxiety, OCD, and eating disorders related to bingeing.
Healthy glucose metabolism and hormone regulation: Inositol helps with the management of hormonal and metabolic conditions by promoting healthy glucose metabolism. In addition, it helps promote menstrual regularity, ovulatory function and improves oocyte quality in those with PCOS.
Cardiovascular support: Inositol functions closely with choline in maintaining the health of cell membranes. It has lipotropic effects, which assists in the metabolism of fats, preventing lipid deposits in the cardiovascular system.
No fillers, no binders. Just what you have come to expect from CanPrev.
Recommended Use
Supports mood balance, healthy glucose metabolism and promotes ovulatory function.
Suggested Use:
Adults
For PCOS: take one (1) scoop per day, or as directed by a healthcare practitioner.
For mood: take one (1) scoop, three (3) times per day or as directed by a healthcare practitioner.
Duration of Use: Consult a healthcare practitioner for use beyond 3 months.
Ingredients:
Inositol
... 4g
(myo-inositol)
Non-Medicinal Ingredients:
None.
Dairy Free, Gluten Free, GMO Free, Soy Free, Vegan, Sugar Free.
Cautions & Warnings
As with any natural health product, you should consult a healthcare practitioner prior to use, especially if you are pregnant, breastfeeding, if you are bipolar or taking Lithium. Consult a healthcare practitioner if symptoms persist or worsen or if you experience nausea, tiredness, headache, dizziness, abdominal pain, flatulence or soft stools. To ensure timely treatment of a serious cause of infertility, consult a healthcare practitioner prior to use. Do not use if seal is broken. Keep out of reach of children.
Known Adverse Reactions
At 3 scoops per day, it may cause gastrointestinal discomfort (nausea, diarrhea, flatus).