Wellness Essentials® Brain Health
Metagenics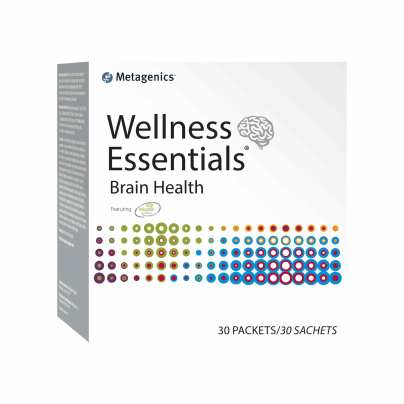 SKU: MET-WELBH
Helps maintain normal brain function. Helps to promote healthy mood balance. Helps reduce serum triglycerides and support cardiovascular health. Helps to maintain normal electrolyte balance. Provides antioxidants and factors for the maintenance of good health.



Suggested Use:
Adults take one packet (1 CoQ10 ST-100 softgel, 2 Meta Lipoate 300, 2 Mag L-Threonate capsules, 1 OmegaGenics Neuro 1000 softgel, and 1 PhytoMulti tablet). Take with food a few hours before or after taking other medications or natural health products.


Serving Size: 1 Packet

_

CoQ10 ST-100
Coenzyme Q10 (ubiquinone) ... 100 mg
Vitamin E (d-alpha tocopherol) ... 67 mg AT
Zinc (zinc oxide) ... 9 mg

Non-Medicinal Ingredients: CoQ10 ST-100: Medium-chain triglycerides, d-limonene oil, gelatin, glycerin, water, mixed tocopherols and turmeric powder.

_


Meta Lipoate 300
DL-alpha-Lipoic acid ... 300 mg

Non-Medicinal Ingredients: Cellulose, magnesium stearate (veg), and silicon dioxide.

_


Mag L-Threonate
Magnesium (magnesium L-threonate)†† ... 49 mg

Non-Medicinal Ingredients: Capsule (hypromellose), cellulose, stearic acid (veg), and silicon dioxide

_


OmegaGenics Neuro 1000
Marine Lipid Concentrate ... 1.3 g
 Providing 250 mg EPA, 750 mg DHA
 (Derived from a blend of sardine, anchovy, mackerel, and squid)

Non-Medicinal Ingredients: Softgel (gelatin, glycerin, water), contains 2 percent or less of natural lemon flavours, rosemary extract, tocopherols, and ascorbyl palmitate.

_


PhytoMulti
Citrus Bioflvonoids (Citrus sinensis L., Citrus reticulata) fruit extract standardized to 45% hesperidin ... 61 mg
Vitamin C (ascorbic acid, ascorbyl palmitate) ... 60 mg
Green Coffee Bean Extract (Coffea arabica) containing 45% chlorogenic acid ... 53 mg
Pomegranate (Punica granatum) 9:1 whole fruit extract equivalent to 351 mg of pomegranate ... 39 mg
Pantothenic Acid (calcium d-pantothenate) ... 37.5 mg
Vitamin E (d-alpha tocopheryl succinate) ... 33.5 mg AT
Magnesium (magnesium citrate) ... 20 mg
Niacinamide ... 18.75 mg
Choline (choline bitartrate) ... 12.5 mg
Inositol ... 12.5 mg
Vitamin B6 (pyridoxine HCl) ... 12.5 mg
Thiamin (thiamin mononitrate) ... 12.5 mg
Grape (Vitis vinifera) seed extract standardized to 90% polyphenols ... 12.5 mg
Blueberry (Vaccinium spp.) fruit extract standardized to 20% polyphenols, 15% anthocyanins ... 10 mg
Green Tea (Camellia sinensis) leaf extract standardized to 60% catechins, 40% EGCG ... 8.3 mg
Riboflavin ... 7.5 mg
Zinc (zinc citrate) ... 7.5 mg
Niacin ... 6.25 mg
Resveratrol (Polygonum cuspidatum) ... 5 mg
Lycopene ... 3 mg
Lutein ... 3 mg
Artichoke (Cynara scolymus L.) 10:1 leaf extract equivalent to 25 mg of artichoke ... 2.5 mg
Chinese Cinnamon (Cinnamomum cassia) (bark) ... 2.5 mg
Rosemary (Rosmarinus officinalis L.) 9:1 leaf extract equivalent to 22.5 mg of rosemary ... 2.5 mg
Watercress (Nasturtium officinale) 4:1 aerial parts extract equivalent 10 mg of watercress ... 2.5 mg
Prune (Prunus domestica) 40:1 skin extract equivalent to 100 mg of prune ... 2.5 mg
Bitter Melon (Momordica charantia) 10:1 fruit extract equivalent to 25 mg of bitter melon ... 2.5 mg
Indian Gum-Arabic-Tree (Acacia nilotica) 4:1 bark & heartwood extract equivalent to 10 mg of Acacia nilotica ... 2.5 mg
Beta-Carotene ... 2.05 mg
Zeaxanthin ... 1 mg
Vitamin A (retinyl acetate) ... 750 mcg
Copper (copper citrate) ... 0.5 mg
Folate (calcium L-5-methyltetrahydrofolate)† ... 400 mcg
Manganese (manganese citrate) ... 0.25 mg
Biotin ... 250 mcg
Vitamin B12 ... 100 mcg
Chromium (chromium polynicotinate) ... 100 mcg
Iodine (potassium iodide) ... 75 mcg
Vitamin K (phytonadione) ... 60 mcg
Selenium (selenium aspartate) ... 50 mcg
Molybdenum (HVP†† chelate) ... 25 mcg
Vitamin D (cholecalciferol) ... 12.5 mcg

Non-Medicinal Ingredients: Cellulose, croscarmellose sodium, stearic acid (veg), silicon dioxide, and coating (hypromellose, hydroxypropylcellulose, medium-chain triglycerides, and sodium copper chlorophyllin).



Products included are gluten-free.

† HVP= Hydrolyzed Vegetable Protein
††Metafolin® is a registered trademark of Merck KGaA, Darmstadt Germany
†††Magtein® is a trademark of Magceutics, Inc. and is distributed exclusively by AIDP, Inc. Magtein® is protected under US patents 8,178,118; 8,142,803; 8,163,301; and other pending patents





Cautions: Do not use if you are pregnant. Consult a healthcare practitioner if you are breastfeeding, have an iron deficiency, a liver disorder, diabetes, are taking blood pressure medication, blood thinners, or prescription medications. Rare, unpredictable cases of liver injury associated with green tea extract-containing products have been reported (in Canada and Internationally). Consult a healthcare practitioner for use beyond 3 months. Stop use if you develop symptoms of liver trouble such as yellowing of the skin/eyes (jaundice), stomach pain, dark urine, sweating, nausea, unusual tiredness and/or loss of appetite. People sensitive to nicotinic acid may experience flushing of the skin that is generally mild and transient. If you experience sweating, paleness, chills, headache, dizziness and/or confusion, discontinue use and consult a healthcare practitioner (as these may be symptoms of serious low blood sugar).

Storage: Keep in a cool, dry place.

It looks like there are no similar
products available