Wellness Essentials Brain Health
Metagenics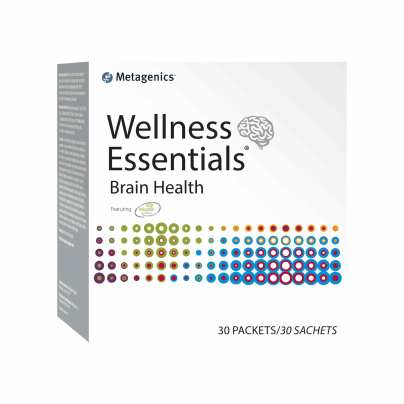 SKU: MET-WELBH
Helps maintain normal brain function. Helps to promote healthy mood balance. Helps reduce serum triglycerides and support cardiovascular health. Helps to maintain normal electrolyte balance. Provides antioxidants and factors for the maintenance of good health.
Adults take one packet
Do not use if you are pregnant. Consult a healthcare practitioner if you are breastfeeding, have an iron deficiency, a
liver disorder, diabetes, are taking blood pressure medication, blood thinners, or prescription medications. Rare, unpredictable
cases of liver injury associated with green tea extract-containing products have been reported (in Canada and Internationally).
Consult a healthcare practitioner for use beyond 3 months.
Stop use if you develop symptoms of liver trouble such as yellowing of the skin/eyes (jaundice), stomach pain, dark urine,
sweating, nausea, unusual tiredness and/or loss of appetite.
People sensitive to nicotinic acid may experience flushing of the skin that is generally mild and transient. If you experience
sweating, paleness, chills, headache, dizziness and/or confusion, discontinue use and consult a healthcare practitioner (as these may be symptoms of serious low blood sugar).

It looks like there are no similar
products available