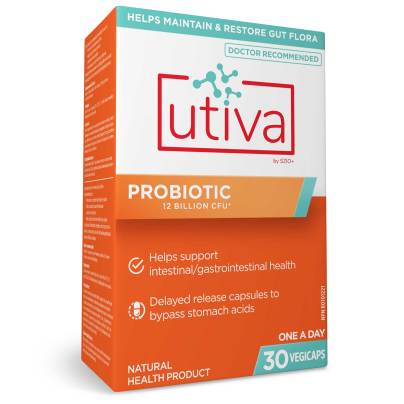 SKU: UTI-UTIVAPROBCDN30
Antibiotics can wreak havoc on our bodies and overuse can lead to antibiotic resistance. Utiva Probiotic Power was developed to help reduce antibiotic side effects and improve overall gut health. It provides a 30 Billion CFU* (at time of manufacture) unique blend of Lactobacillus and Bifidobacterium strains. Specifically, our Lactobacillus Rhamnosus GG strain focuses on reducing antibiotics side effects. Additionally, we use a proprietary DR capsule which protects the probiotic from stomach acid and enhances stability for targeted release.
* Contains 12 Billion CFU at time of expiration.
1 capsule daily around the same time. While on antibiotics, take 2-3 hours before or after.

Serving Size: 1 capsule

Amount per capsule:
Probiotic blend 30 billion CFU
Bifidobacterium animalis subsp. Lactis
Lactobacillus acidophilus
Lactobacillus casei
Lactobacillus gasseri
Lactobaccilus paracasei
Lactobacillus plantarum
Lactobacillus rhamnosus GG
Lactococcus lactis subsp. lactis

Other ingredients: maltodextrin, starch, inulin, magnesium stearate, silicon dioxide, vegetable capsule (hypromellose, gellan gum, titanium dioxide, water)
Cautions
Consult a physician prior to use if you have fever, vomiting, bloody diarrhea, or severe abdominal pain. If symptoms of digestive upset (e.g., diarrhea) occur, worsen, or persist beyond 3 days,
discontinue use and consult a physician.

Do not use this product if you have an immune-compromised condition (e.g., AIDS, lymphoma, patients undergoing long-term corticosteroid treatment).

Keep out of reach of children.