Stress Defence
Cyto-Matrix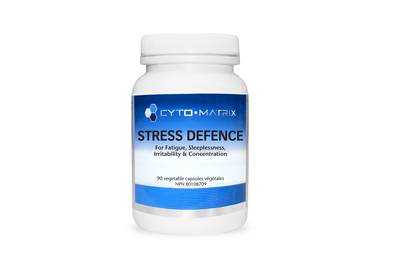 SKU: CM-193230
A blend of ashwagandha, magnesium and core adrenal nutrients to support the resistance phase of the stress response, including symptoms of fatigue, sleeplessness, irritability and poor concentration.
Suggested Use:
Adults
- Take 3 capsules per day or as directed by a healthcare professional. Consult a healthcare professional for use beyond 12 weeks.
Amount Per Serving
Magnesium TRAACS™ Magnesium bis-glycinate chelate buffered (magnesium bis-glycinate chelate, magnesium oxide)* ... 80mg
Sensoril® Ashwagandha (Withania somnifera) root, 5:1 , 32% withania oligosaccharides, 0.5% withaferin A, 10% withanolide glycosides*** ... 41.6mg
Vitamin C (ascorbic acid) ... 50mg
Vitamin B5 (Pantesin®)** ... 33.3mg
Vitamin B6 (pyridoxal-5-phosphate) ... 25mg
Unit of Measure above: Each capsule contains
Non-Medicinal Ingredients: Vegetable-grade magnesium stearate, microcrystalline cellulose, maltodextrin, citric acid, silica. Capsule: hypromellose.
Vegan. GMO, gluten, soy and dairy free.
Warnings: Do not use if safety seal is broken. Consult a healthcare professional prior to use, especially if you are pregnant or breastfeeding. Some people may experience drowsiness. Exercise caution if operating heavy machinery, driving a motor vehicle or involved in activities requiring mental alertness. Consumption with alcohol or products that cause drowsiness is not recommended. Consult a healthcare professional if symptoms persist or worsen.