Pleo Alkala Powder
Biomed Professional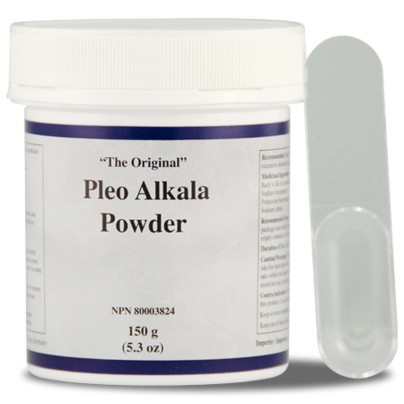 SKU: BMF-40060011
Pleo Alkala Npowder is a base mixture, excellently suited for correction of the acid-base balance in the organism by decreasing tissue acidosis and increasing mitochondrial respiration. Includes pH indicator papers.
Recommended Dose: Adults: Take of a measuring scoop contained inside this package once daily in the morning in a glass of warm water, preferably on an empty stomach, or to be used on the advice of a health-care practitioner. Duration of Use: Take for up to two weeks. Medicinal Ingredients: Each fill of a measuring scoop inside this package contains 4g of: Sodium bicarbonate 3571.47 mg Potassium bicarbonate 357.33 mg Sodium citrate 71.20 mg
Cautions/Warnings: Do use use if you are pregnant or on a low salt diet. Do not take for more than two weeks, unless directed by a health professional. Do not take within two hours of another medicine because the effectiveness of the other medicine may be altered. Contra-Indication: Not to be used for children under 12 years of age. Do not take this product, if you have metabolic or respiratory alkalosis and/or hypocalcemia.

It looks like there are no similar
products available