Sweet Dreams Melapure® Liquid Melatonin
Doctor's Choice®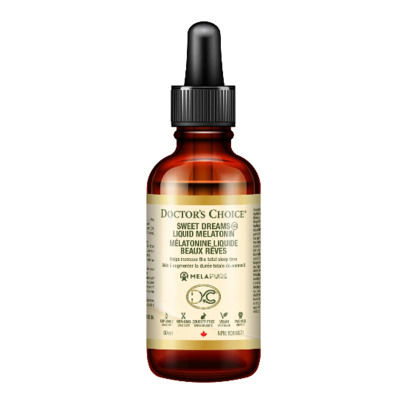 SKU: DCH-A14
Helps increase the total sleep time in people suffering from sleep restrictions or altered sleep schedule.
Take 7-21 drops(0.35ml-1.05ml) per day. Add to glass of water (200ml) on or before bedtime or as directed by your health care practitioner.

Medicinal Ingredients:

Each 7 drops contain:
Melatonin Melapure ... 1mg
(registered TM of flamma S.p.A, Italy Melatonin)

Non-Medicinal Ingredients: Water (purified) , ethanol (grain distilled), glycerin, (vegetable source), citric acid, natural peppermint flavor.

100% pure pharmaceutical ingredients

Contains no wheat, corn, yeast, dairy, or any other filler.
Consult a healthcare practitioner prior to use. If you have hormonal disorder, diabetes, liver, or kidney disease, cerebral palsy, seizure disorders, migraine, depression, and/or hypertension or if you are taking blood pressure or sedative/hypnotic medications. If symptoms persist continuously for more than 4 weeks, consult a healthcare practitioner. Keep out of reach of children.

It looks like there are no similar
products available