Curamin® Plus with DLPA
Terry Naturally
60 tablets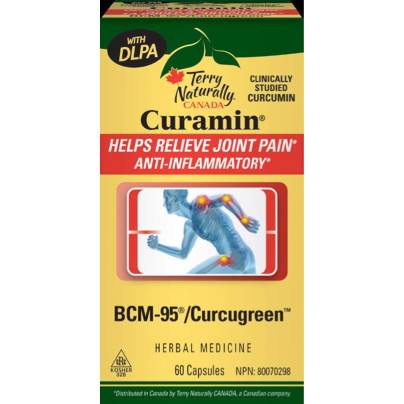 SKU: TNA-C03006
Helps relieve pain and inflammation.
Take 1 tablet 3 times daily.

DL-Phenylalanine--500 mg. Boswellia serrata (Boswellia (BOS-10™)) 10:1 Gum oleoresin extract, dried equivalent 2,500 mg providing 40% Boswellic acids--250 mg. Curcuma longa (Turmeric (BCM-95® / Curcugreen™)) 25:1 rhizome extract, dried equivalent 2,500 mg, providing 86 mg curcuminoids--100 mg. Zingiber officinale (Ginger) 10:1 rhizome extract, dried equivalent 1,000 mg, standardized to 6% gingerols--100 mg. NON-MEDICINAL INGREDIENTS: cellulose, stearic acid, silicon dioxide, magnesium stearate, croscarmellose sodium, ethylcellulose, acacia gum, dextrin.
Consult a healthcare practitioner prior to use if you are pregnant or breastfeeding, if you have stomach ulcers, excess stomach acid, gallstones or a bile duct obstruction, or if you are taking antidepressant drugs such as MAOIs or SSRIs or other anti-psychotic medications. Do not use if you are taking Levodopa or if you have tardive dyskinesia or Phenylketonuria (PKU). Hypersensitivity (e.g. allergy) has been known to occur, some people may experience mild gastrointestinal disturbances such as diarrhoea, abdominal pain, heartburn, nausea and vomiting; in which case discontinue use. If symptoms worsen, consult a healthcare practitioner.

It looks like there are no similar
products available