Collagen Peptides Matcha
Vital Proteins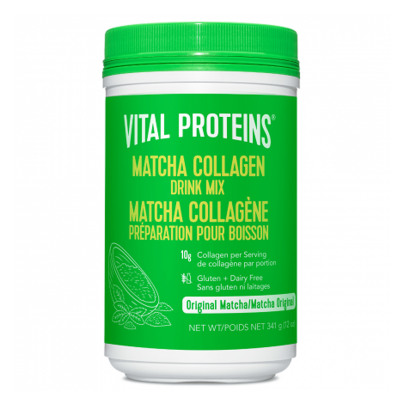 SKU: VPR-CPM10ENCA
Our Matcha Collagen is sourced from high-quality Japanese matcha green tea and grass-fed, pasture-raised bovine hide to ensure top quality and maximum nutritional benefit.
Our Matcha Collagen is easily digested and soluble in hot or cold liquids, and 1 scoop a day is all you need!

Serving Size: One Scoop (14g)
Amount Per Serving
Calories ... 50

Ingredients: Collagen Peptides (from bovine hide), green tea (matcha), coconut water powder

Does not contain: Gluten, wheat, soy, dairy, peanut

Typical Amino Acid ProfileAlanine…731 mg
Arginine…759 mg
Aspartic Acid…596 mg
Glutamic Acid…1,120 mg
Glycine…1,860 mg
Histidine…72 mg
Hydroxylysine…109 mg
Hydroxyproline…1,029 mg
Isoleucine…136 mg
Leucine…262 mg
Lysine…307 mg
Methionine…54 mg
Phenylalanine…190 mg
Proline…1,038 mg
Serine…307 mg
Threonine…172 mg
Tyrosine…45 mg
Valine…217 mg
Vital Proteins™
If pregnant, nursing, or taking prescription drugs, consult your healthcare professional prior to use.