Bone Booster
Smart Solutions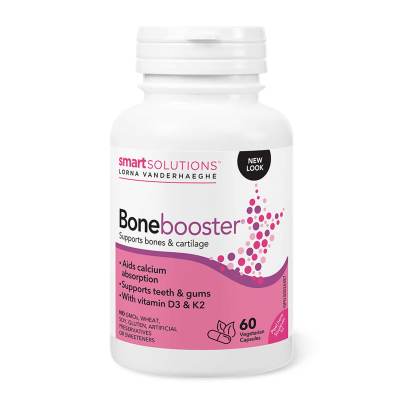 SKU: SMS-LV0781
Over 2 million Canadians are affected by osteoporosis and 1 in 3 women will experience an osteoporotic fracture in their lifetime. Women begin to lose bone mass in their 30's and see a more significant decline after menopause. Most cases of osteoporosis are preventable with proper nutrient intake and early intervention. Bone booster is for women looking for comprehensive support for the health and maintenance of their bones, cartilage, teeth and gums.
Suggested Use: Adults take 1 capsule daily with food or as directed by a health care practitioner.

Each Scoop Contains:
Vitamin D3 (cholecalciferol) ... 1000 IU (25 mcg)
Bamboo Extract (Bambusa vulgaris, stem) Extract standardized to 70%
Silica ... 4.28 mg
Strontium (citrate) ... 1 mg
Boron (citrate) ... 700 mcg
Vitamin K2 (menaquinone-7) ... 100 mcg

Capsule (vegetable cellulose) microcrystalline cellulose, magnesium stearate.

NO GMOs, WHEAT, SOY, GLUTEN, ARTIFICIAL PRESERVATIVES OR SWEETENERS
Consult a health care practitioner prior to use if you are pregnant or breastfeeding, using blood thinners, have a kidney disorder, or have been diagnosed with estrogen-dependent cancer; if symptoms worsen, consult a health care practioner.